Businesses affected by CPO require a significant length of time in order to successfully relocate. In addition, it is important that Acquiring Authorities take time to obtain a comprehensive understanding of the business to minimise disruption and mitigate losses.
In a case where we acted for a children's day nursery affected by a proposed redevelopment scheme, the pressing timescales for acquisition meant the nursery was unable to relocate. Our client had a leasehold interest with over 10 years left on their lease. The business was established having operated from the premises for more than 15 years.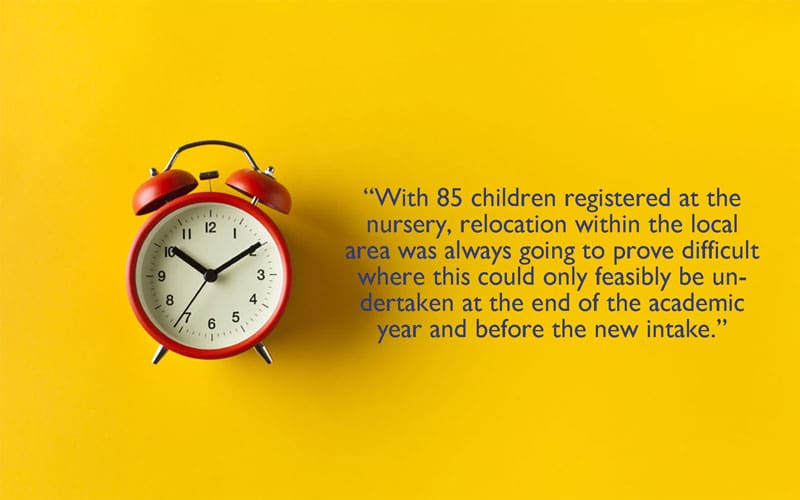 Whilst there was no confirmed CPO in place, our clients were willing to work with the Acquiring Authority to seek a mutually beneficial solution. An extensive property search was undertaken with serious consideration given to 17 potential relocation properties. Ultimately however, none of those identified proved suitable and the timescales imposed by the Acquiring Authority meant that the business could not successfully relocate. The business was therefore forced to extinguish.
Forensic accountants were instructed to assess the value of the business goodwill. Roger Hannah then prepared and submitted a comprehensive claim based on the total extinguishment of the business. After some quite difficult negotiations, we were able to successfully negotiate a deal with the Acquiring Authority without them having to go through the lengthy process of obtaining a CPO.
For further details on the complex topic of Compulsory Purchase Orders, please visit our dedicated pages or read our FAQ's.
ENQUIRE NOW | 0161 429 1677 – Professional representation is essential in maximising your entitlement. Roger Hannah have vast experience in maximising compulsory purchase order compensation on behalf of their business clients.