While it might seem like there's enough land to go around in the UK, some areas are in higher demand than others. If a new scheme in your area is being developed, then the location of your land, home or business may interfere with the plans. In which case, you could be served with what is known as a compulsory purchase order (CPO).
On the other side of the coin, you may be looking to acquire land as a scheme promoter such as a local authority or a statutory undertaker.
In either scenario, in order for a CPO to be issued, there must be a compelling case in terms of public interest. Such reasons include facilitating the redevelopment of the area. Or, extending existing infrastructure including the creation of new transport links, which would boost the local economy. The proposal must be considered as being economically, environmentally and socially beneficial to the local area.
Roger Hannah are compulsory order specialists, acting on behalf of scheme promoters, businesses and residential claimants alike. With our extensive experience, we can advise on the complex natures of CPOs, including matters relating to valuations and developments.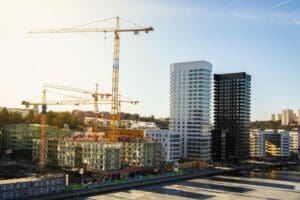 What Is A Compulsory Purchase Order?
A compulsory purchase order is a legal process that allows public bodies or in some cases private individuals to legally require a piece of land. Although CPOs have many contributing factors, they are most commonly used when it is considered that the land in question is obstructing a planned development.
Compulsory purchase orders are not the first option for acquirers, and issuing one is no guarantee that the proposals will go ahead. However, parties affected by a CPO either directly or in some cases indirectly are entitled to financial compensation.
The process must be extremely thorough not just in terms of the legal framework surrounding CPOs, but also due to the sensitive nature of those affected by the purchase order itself, including the local community.
How Does A Compulsory Purchase Order Work?
Compulsory purchase orders are going to work differently depending on whether you are a homeowner, business owner or scheme promoter.
When you contact our compulsory purchase specialists, we will be able to go over all the details that are relevant to your case. However, here is a brief overview of what to expect, depending on your position within the process:
Homeowners
As something that is usually brought to your attention unexpectedly, it's fair to say that compulsory purchase orders can be a daunting prospect for homeowners.
You will be sent a formal letter explaining the compulsory purchase order, along with detailed plans about how your land will be affected. Those who own the land set for redevelopment, or whose land will reduce in value due to the proposed plans are entitled to compensation.
If you are affected by a compulsory purchase order, it's essential that you seek to appoint a professional such as one of our CPO specialists here at Roger Hannah, who can guide you through the process.
We normally recommend potential claimants reject a compulsory purchase order. We have a page on rejecting a CPO offering further explanation on our stance.
Businesses
Similar to residential developments, the location of your business may also mean your premises are subject to a CPO. While some of the processes involved are similar with that of a residential claim, the compensation must also factor in the cost to your business that would arise from relocation.
Check out our page on compulsory purchase orders for businesses to find out more.
Scheme Promoters
Compulsory purchase orders not only have a lot of legal frameworks attached to them but should also be considered as a last resort. Looking at all possible alternatives should be first explored, followed by engaging with the landowner, as well as consultations with the wider community.
We can assist with all aspects of the process, including the valuation of the land as well as advising on how to proceed with negotiations. If the CPO is to go ahead, A Statement Of Reason must also be set out, underlining the essential case for the acquisition of the land.
If you are a scheme promoter looking to initiate a compulsory purchase order, please visit our dedicated page on CPOs for further information.
Who Can Make Compulsory Purchase Orders?
Most people associate compulsory purchase orders with developers looking to build new houses or the infamous HS2 project. However, the reason why your land may need to be acquired and likewise who instigates the process can be far reaching.
Local Authorities
While all CPOs must be deemed in the public interest, local authority compulsory purchase orders can carry significant weight to them, as they usually involve regeneration projects that are designed to improve the outlook of the area as a whole.
Statutory Undertakers
Statutory Undertakers are companies or agencies that have been given a licence to carry out development works. For example, Network Rail or National Grid.
Executive Agencies
Executive agencies are government departments such as the Ministry of Housing, Communities and Local Government. Only some executive agencies such as Homes England who trade under the name Homes and Communities Agency (HCA), have statutory CPO powers.
Health Service Bodies
Health service bodies in the UK refers to any NHS Trust, NHS Commissioning Board or Clinical Commissioning Group. For example, if your local hospital wanted to add more car park spaces, they may issue a CPO for your land that backed onto the site, if no alternative solution could be found.
Government Ministers
Government Ministers span a wide variety of departments, from the Home Office to the Department for Education. Each department will have its own internal guidance as to how to proceed with a CPO.
Landowners
In certain circumstances, landowners are also permitted to initiate a CPO. This would need to either be part of a purchase notice under section 137 of the Town and Country Planning Act 1990, or a blight notice under section 150 of the Town and Country Planning Act 1990.
Common Reasons For Compulsory Purchase Orders
To build new homes

Creation of transport links (i.e HS2, new motorways, airport expansions etc)

Redevelopment of existing site

Creation of public safety zones

Listed buildings in need of repair

Utility works
Compulsory Purchase FAQs
Whichever side of the process you're approaching a CPO from, we fully understand it can be challenging to comprehend let alone navigate. Below are some of the most common questions about compulsory purchase orders. If you don't see your question answered, please email us for further advice.
How Much Do You Get For A Compulsory Purchase Order?
As stated on our compensation for compulsory purchase order page, a claimant should be placed in a no better or worse position (in financial terms) after the acquisition than they were prior to the acquisition.
As compulsory purchase specialists, we will ensure a successful negotiation to ensure you are fairly compensated, depending on the circumstances of the CPO.
How Long Does A Compulsory Purchase Order Last?
As explained on our compulsory purchase order process page, if confirmed (with or without modifications) then CPO powers can be executed within 3 years of the order having been granted.
What Are The General Principles Of Compulsory Purchase?
The principle of the compulsory purchase system is that the owner of land or rights compulsorily acquired or interfered with is legally entitled to compensation. The money awarded should make them no worse or better off in financial terms, once the acquisition has been agreed on.
I Have Been Issued With A Compulsory Purchase Order For HS2 – Can You Help Me?
Absolutely! We have a dedicated HS2 team who are ready and waiting to help anyone affected by the scheme, which will see a high speed rail network constructed across London, Birmingham, the East Midlands, Leeds and Manchester.
Sadly, this will mean many homes and businesses will need to be demolished to make way for the plans. We have already been helping various homeowners and landowners who have been affected by HS2, and we expect many more to come forward in need of our services in the near future.
If you have been affected by HS2, please see our dedicated HS2 page for further information. Or give our HS2 team a call on 0161 429 167.
Compulsory Purchase Order Specialists Manchester
Roger Hannah is a leading North West based firm of Chartered Surveyors and Property Managers based in Manchester, with unrivalled experience in compulsory purchase orders.
As a firm, we act on behalf of scheme promoters, business and residential claimants. We can guide you through the complex statutory processes involved with a CPO.
While we work across the UK, we predominantly cover the North West of England including Altrincham, Ashton Under Lyne, Blackburn, Blackpool, Bootle, Burnley, Bury, Cheadle, Chester, Denton, Dukinfield, Hyde, Leyland, Liverpool, Newton-Le-Willows, Oldham, Prescott, Preston, Rochdale, Sale, Salford, Stalybridge, Stockport, Stretford, Ulverston, Warrington, Wigan and Worsley.
If you would like one of our compulsory purchase order specialists to assist you, or if you'd like further help or advice on anything we've mentioned above, we're here to help.
Call us today on 0161 817 3399 or fill out our contact form and our friendly, knowledgeable team will be in touch.