Following the awarding of £24.8m of Levelling Up Funding from Central Government last year, the Doncaster town centre regeneration is now pressing ahead with site acquisitions already under way. Having advised parties in relation to the scheme and the acquisitions needed to facilitate it, we thought it would be useful to provide an insight into the ambitious scheme.
The regeneration will take place in 9 different areas of the town centre and will affect over 100 acres of land:
City Gateway
Enterprise Market Place
Waterfront
Minister Canalside
Civic/Business District
Parklands
Retail core
Innovation Quarter
Waterfront phase 2
With such a large area affected, we take a look at just two parts of the scheme: City Gateway and Waterfront.
City Gateway, the way many people arrive at the city either at the train station or to go to Frenchgate Shopping Centre, will see the car park removed and green space built, as well as the redevelopment of the existing offices to the south. This will truly be a dramatic change and change many people's initial impressions of the town.

Source: Doncaster Council
To the north of this site, a 32-acre site located close to the Doncaster Markets area, Minster and the train station, the area known as Waterfront will be redeveloped to include a mixture of education, mixed use and commercial properties. Part of the site has already been redeveloped to accommodate the £70m Doncaster College Hub and the University Centre campus is now on site.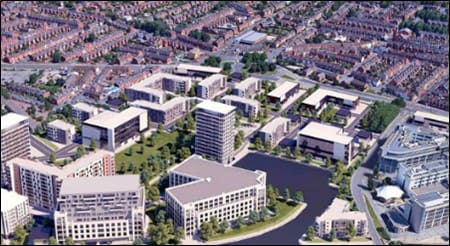 Source: Doncaster Council
No completion date has been published yet, but with acquisitions already underway and a compulsory purchase order in the pipeline, the scheme is certainly building momentum. With this ambitious regeneration and the town also pitching to be the home of Great British Railways, Doncaster has ambitious plans for the future.
Roger Hannah is advising several clients impacted by the scheme. Please contact our Compulsory Purchase Team to discuss further.