Greater Manchester needs to build over 200,000 homes between 2018 and 2037, with Tameside expected to build 11,067 of those, according to Places for Everyone (formerly The Greater Manchester Housing Strategy, which succeeded the Greater Manchester Spatial Framework). Tameside Council's latest Strategic Housing and Economic Land Availability Assessment in April 2020 confirmed that there was a total supply of sites, including developable brownfield land, to build 6,923 homes over the next 17 years, a deficit of 4,144 homes. To ameliorate this shortfall, a new Garden Village has been proposed at Godley Green that would significantly reduce the shortfall to 1,794.
Godley Green Garden Village will be located 1 mile east of Hyde and just over 3 miles southeast of Ashton-Under-Lyne. The ambitious project would construct 2,350 homes with two village centres, one in the west, and one in the eastern section at Hattersley train station. Councillor Ged Cooney, Tameside Council's executive member for Housing, Planning and Employment, claimed that the development would benefit the economy of Hyde by £50 million in addition to the scheme creating 8,000 temporary jobs and 300 permanent jobs.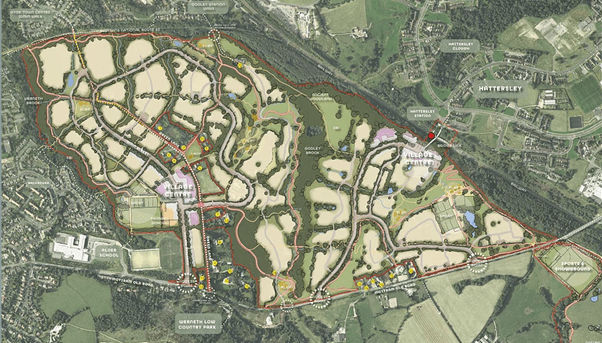 But concerns have been raised by local residents on two fronts. First is the fact that the scheme would fall in the greenbelt at a time when the greenbelt is being eroded in other parts of the county. It is estimated that 3.3% of the green belt will be lost across the county as a result of the construction of new homes over the coming years. Local residents have also voiced concerns about how the scheme would affect the feel of the area, access to greenspace and strain on existing infrastructure. "Once again Tameside overriding the people. Concerned about traffic, Tameside Council is not", said one local resident.
Balancing the rising demand for housing in the Borough with concerns of local residents is a challenge for all local authorities. Signalling their intention to proceed, in June 2021 a resolution was approved by Tameside's executive cabinet to authorise the progress of a Compulsory Purchase Order (CPO) preparatory work, with details of CPO's to follow in subsequent council meetings.