The Port of Liverpool is the busiest port in the North West of England and with the new deep-sea container berth known as Liverpool2, it is set to become even busier. The Port is served by the A5036 which provides the main link with the regional and national motorway network via the Switch Island Interchange where the M57 and M58 converge. In addition, the A5036 is also a key commuter route into Liverpool from the North, and therefore suffers from congestion and delays particularly at peak times of the day, as well as environmental and safety issues.
The A5036 Port of Liverpool Access Scheme forms part of the Government's Road Investment Strategy which is being managed by Highways England who are responsible for the country's motorways and major A roads. The Scheme is intended to deliver quicker and safer journeys and improve local life and aid economic growth.
The proposal is to develop a new bypass which will take traffic away from communities by Church Road and Dunnings Bridge Road, thus reducing congestion at junctions and along local roads.
A 6 week consultation was held between January and February 2017 which presented two route options and in September 2017 Option B was selected as the preferred route.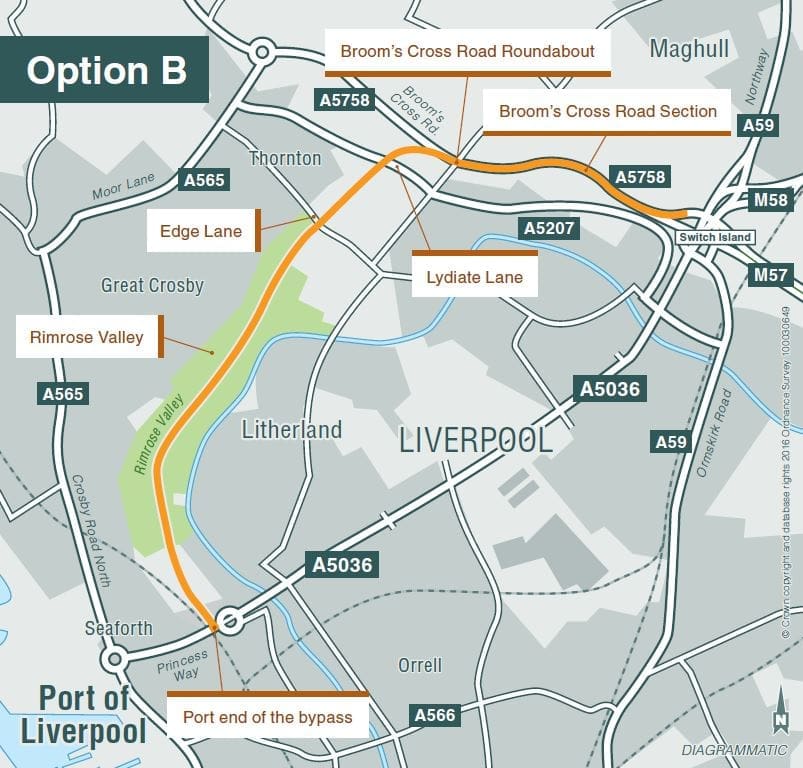 However, following the announcement of the preferred route, this was subject to a legal challenge by Sefton Council which was lodged in November 2017 and heard in Court in October 2018. The Court found in favour of Highways England, but naturally this has delayed the programme. Originally, construction was due to commence in March 2020, work is now expected to start in late 2022.
Highways England are currently undertaking various surveys and investigations and a further consultation is set to take place in early 2020. Following this, planning consent for the Scheme will be sought and a Development Consent Order (DCO) submitted.
Roger Hannah are presently acting for several property owners affected by the Scheme, providing strategic advice on compulsory purchase compensation and procedural matters.
Roger Hannah is experienced in acting for both residential and commercial owner-occupiers and investors advising them through the compulsory purchase process. We have been able to successfully negotiate on behalf of owners and occupiers affected by schemes of this nature in the past, so if you would like further information or advice regarding the above scheme and impending DCO, please get in touch with our CPO Team directly on 0161 817 3399 or fill in our form and we will be in contact with you at our earliest convenience.