Compulsory Purchase Orders (CPOs) are important tools for statutory bodies to deliver social and economic change. Here we look at a series of CPOs highlighting a variety of schemes being promoted across the country including:
Environment Agency (Oxford Flood Alleviation Scheme) CPO 2018.

Highways England: A57/A628 Trans-Pennine Upgrade.

Birmingham City Council (Perry Barr – Commonwealth Games Athletes' Village and Legacy) Compulsory Purchase Order 2018.
---
1. Environment Agency (Oxford Flood Alleviation Scheme) Compulsory Purchase Order 2018
Oxford Flood Alleviation Scheme was created to address the issue of flooding within Oxford. Oxford sits on the confluence of 7 rivers with a natural chocking point near the City. With a changing environment expected Oxford will be subject to heavier and intense flooding that can only be managed by this scheme and increased investment in flood control. In addition, development and alteration of the flood plain has exacerbated the flood risk, which is expected to double within the next 50 years.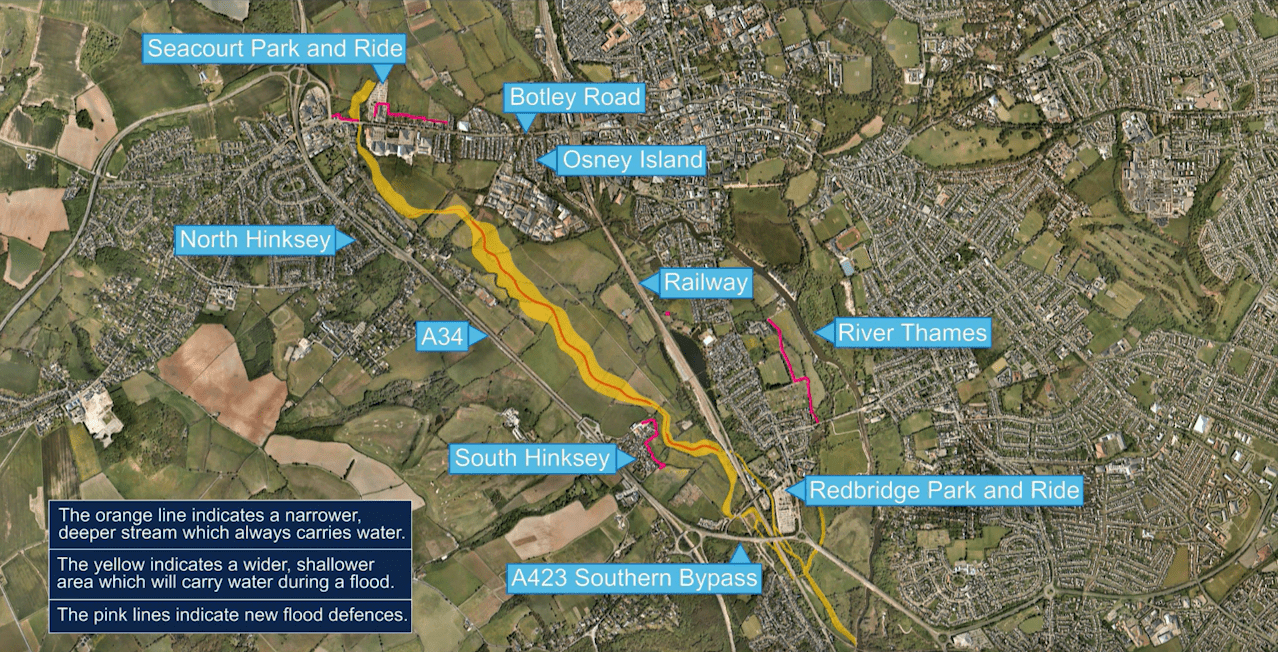 (Source: Oxfordshire County Council)
The Scheme which will commence in 2020 will comprise:
• a new river channel situated between the A34 and railway to the west of Oxford City Centre.
• the channel will flow south-east of the confluence of Botley and Seacourt Streams 3.1 miles.
• a series of infrastructural changes, including 7 new bridges, 2 culverts, eight flow controlling structures, construction of floodgates and approximately 10.4 Ha (25 acres) of mitigation tree planting.
In total there are 802 properties affected by the CPO whether by temporary or permanent acquisitions. Most of the affected land comprises agricultural grazing land, but also nature reserves, residential garden land and commercial premises.
---
2. Highways England: A57/A628 Trans-Pennine Upgrade
The A57/A628 Trans-Pennine route runs between the M67 in Mottram in Longdendale and the M1 North of Sheffield and is the principal road link between Manchester and Sheffield. However, the present route comprises single carriageways, steep gradients and sharp bends which run through several villages impacting on local communities. In addition, sections of the route can also be badly affected by adverse weather conditions with accident rates above the national average.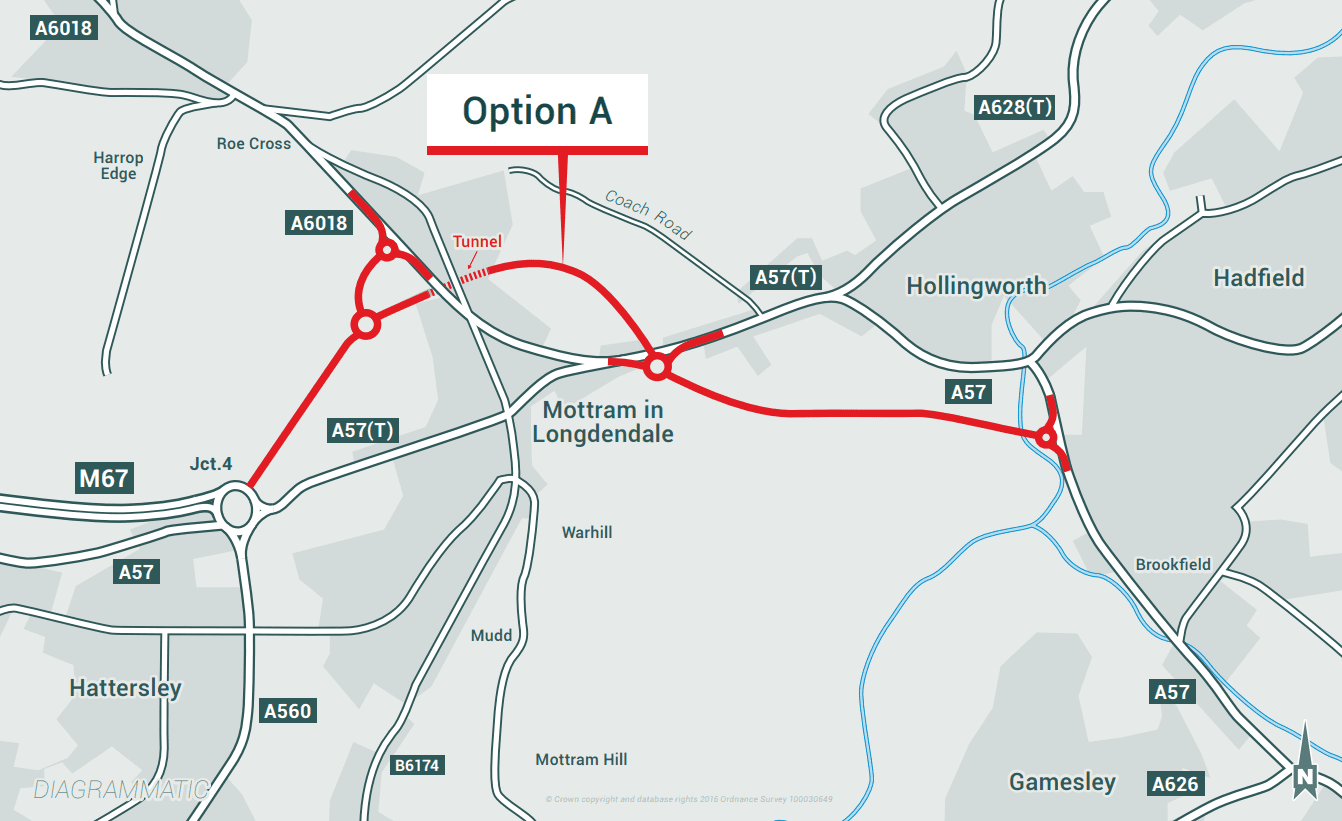 (Source: Highways England)
The Trans-Pennine Upgrade Scheme was announced in 2017 followed by public consultation where local opinion was canvased, and a preferred route option was selected. The Scheme is to be delivered via a Development Consent Order which is due to be submitted in Quarter 1 2020.
The proposed Scheme will see the delivery of:
• a new dual carriageway from Junction 4 of the M67 to a new junction on A57(T) Mottram Moor and a new single carriageway connecting to the A6018
• A57(T) to A57 link road – a new single carriageway link from the A57(T) at Mottram Moor to a new junction on the A57 on Woolley Bridge
• safety and technology improvements – including safety measures focused on addressing accident hotspots and the provision of electronic message signs
• improvements to reduce congestion and improve the flow of traffic through the roundabout in Tankersley, Sheffield
The construction of a new road from Junction 4 towards Mottram will go underground and form a short tunnel under the Town itself. Properties located towards Mottram Town Centre are most likely to be affected by a Compulsory Purchase.
---
3. Birmingham City Council (Perry Barr – Commonwealth Games Athletes' Village and Legacy) Compulsory Purchase Order 2018
Following the revocation of Durban's rights to host the 2022 Commonwealth Games, in December 2017 Birmingham was selected at the host City. As a result, the City's Planners were set the task of identifying a site for the Athletes Village. A site at Perry Barr, 2 miles North of Birmingham City Centre was selected. The area of Perry Barr has seen limited investment and regeneration in recent years, so the awarding of the Commonwealth Games is seen as an opportunity to rejuvenate the area and promote regeneration by providing new housing stock, improving public transport links, upgrading highway infrastructure, upgrading the public realm and providing new commercial establishments thus creating a high quality urban centre and legacy for the City.
(Source: Birmingham Council)
Consequently, the CPO was made in December 2018 and following a Public Inquiry in July 2019, the Order was confirmed on 11 September 2019.
The Scheme will see the development of:
• Commonwealth Games Athletes Village
• Legacy housing
• Upgrade of public transport and highways infrastructure
• Improved public realm
• New residential and commercial development
The Order Land extends to 27.6 hectares (68.2 acres) and comprises a range of buildings and sites which need to be acquired, including a range of commercial properties, 42 residential dwellings, the site of Birmingham City University's former Campus North which includes student accommodation and the Doug Ellis Sports Centre and part of the University's Teaching Campus and National Express's Perry Barr Bus Depot. Whilst a number of sites have been acquired by negotiation, ultimately the Council will vest the remaining sites.
---
For further reading and understanding on the CPO Process or how business and residential owners/occupiers Claim Entitlement can be affected:
CLICK HERE – Visit the Compulsory Purchase Specialists page.