Whilst investment has been made in transportation connections from the south to the north there has been very little investment in east to west connections.
This is beginning to change. Highways England has recently announced £108 million of funding for the A57 Link Roads project which was formerly known as the "Trans-Pennine Upgrade". Highways England have now proposed a package of Trans-Pennine Upgrade works, to improve the existing route connecting the M67 at Mottram in Longdendale to the M1, north of Sheffield.
The A57 and A628 between Manchester and Sheffield currently suffer from heavy congestion, which creates unreliable journeys and is a deterrent to economic growth. The heavy traffic also disrupts the lives of communities, bringing congestion to the roads and significantly increasing journey times between Manchester and Sheffield. Local communities have campaigned for several decades for the required road investment to create a by-pass solution particularly around Mottram in Longdendale, Hadfield and Glossop.
The A57 Link Roads project will include the creation of two new link roads:
Mottram Moor Link Road – a new dual carriageway from the M67 Junction 4 roundabout to a new junction on the A57(T) at Mottram Moor
A57 Link Road – a new single carriageway link from the A57(T) at Mottram Moor to a new junction on the A57 in Woolley Bridge.
The road will provide a by-pass around Mottram and should significantly cut journey time between Manchester and Sheffield. The proposed route is shown below: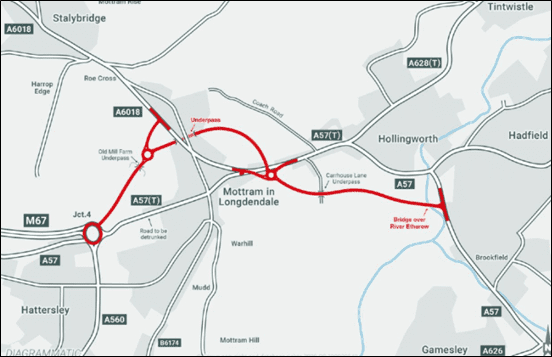 The A57 Link Roads project will require the compulsory acquisition of land. As the project is classified as a 'Nationally Significant Infrastructure Project', Highways England has applied for a 'Development Consent Order (DCO)', which will be examined by the Planning Inspectorate and approved by the Secretary of State.
Roger Hannah has several clients impacted by the scheme with land loss impacting the value of their properties. We regularly engage with Highways England on behalf of clients so please contact our Compulsory Purchase Team to discuss further.
CLICK HERE to visit the Compulsory Purchase Services Specialists page.