To meet the needs of a growing population in need of high-quality housing, Carlisle City Council identified a range of areas suitable for housing in the Carlisle District Local Plan 2015-2030. Among others, a 1,323-hectare site to the south of Carlisle area suitable for a garden village was identified.
Garden Villages have not been high on the political agenda nor the public consciousness since the start of the 20th century. But with a range of factors including greater desire for suburban living and increase in remote working, there has been a renewed interest in Garden Villages both locally and nationally. In January 2017 the government announced its support for 14 new 'garden villages' totalling 1,500-10,000 homes.
Carlisle City Council submitted a Garden Village Expression of Interest for the site St Cuthbert's site in late 2016. In January 2017, St Cuthbert's Garden Village was successfully designated as one of 14 Garden Villages planned across the country. Creation of a masterplan began in November 2017 and was finalised in October 2020 after a public consultation in 2019.
The plan consists of 10,000 new homes, which will be built over an expanse of land from the village of Cummersdale in the west, to Carleton in the southeast, with the majority of homes built around the existing village of Durdar. But with an existing population of just over 2,000, an additional 23,000 residents that are expected in the area will put a strain on the existing infrastructure. To facilitate this, the Carlisle Southern Link Road (CSLR) has been proposed, which would connect A595 Wigton Road in the east, to junction 42 of the M6.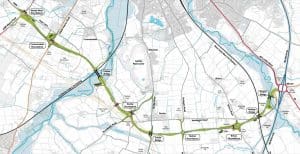 Source: Cumbria County Council
The construction of this ambitious project will result in almost 5 miles of new road with four new roundabouts, three new road bridges, and four new road/cycle overbridges. This improvement in connectivity is expected to bring additional benefits not just to Carlisle, but Northwest Cumbria by facilitating easier transport and reducing congestion.
MP for Carlisle, John Stevenson said of the plan: "This scheme will reduce congestion throughout Carlisle, build the new infrastructure which will support the development of the St. Cuthbert's Garden Village and help Carlisle to continue to grow as a city."
Plans for the road were finalised in April 2019, with public consultation on the scheme taking place over summer before closing in December 2019. In Autumn 2020, planning consent was granted by County Council's Development Control and Regulation Committee and additional funding sources were identified. The Ministry of Housing, Communities and Local Government has now granted £134 million towards the project. In addition, Cumbria County Council and Carlisle City Council have committed to make contributions of £5 million each to the Garden Village project generally.
Due to the scale of the project, construction of the road will require acquisition of land from many different owners. In 2020, Cumbria County Council confirmed its intention to seek a Compulsory Purchase Order (CPO) to forcibly acquire the land where necessary. In June 2021, the Public Inquiry was held in respect of The Cumbria County Council (Carlisle Southern Link Road) Compulsory Purchase Order 2020 and the decision of the Secretary of State is expected in Autumn 2021. If successful, confirmation of the order will be granted shortly after. Work is expecting to start on site in spring 2022, with the scheme's completion expected in 2024.
If you are think you might be affected and would like some more information regarding the above scheme, please get in touch with our CPO Team.